Bus charging system solution
1. System Design Target
◆to establish a set of functional bus IC card charge management system which meets the needs of urban public transportation
◆to promote bus IC card charge system toward extension of urban one-card-pass systemupgrades and bus enterprise productionoperations management system
◆to set up a good hardware and software foundation for informatization and electronization of bus enterprise
2. System operation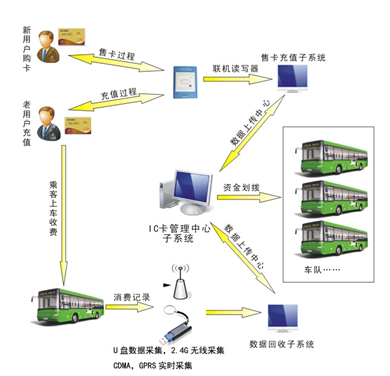 The overall structure of the system includes IC card management center, sellingcard recharge points, data recovery points, equipped bus device and IC cards.After passengers purchase and recharge a certain amount of money into bus cardat selling card recharge points, they can consume on bus. When card amount is insufficient, the card can be recharged at selling card recharge points.Selling card recharge points and data recovery points will transmit sellingcard recharge data and bus transaction data to IC card management center, the management center will uniformly keep at central server the selling card recharge data sent from each selling card recharge points and daily vehicletransaction data. IC card management center stores all data of the system;process, count, analysis accordingly; clear system data at the same time.
3. System features
3.1Real electronic wallet
Non-contact read and write features, faster read and write speed. Support offline running.When charging POS is running offline, it can determine whether there is abalance in the card, whether the card has been reported or cancelled. There isno need to reply on database in the host computer. It effectively verifies thevalidity and legitimacy of the card.
3.2 Powerful blacklist management function
The system can carry on two management methods for loss card and write-off card:"all blacklist update" and "newly added blacklist update";In addition, cards can set its validity period when distributing. If use timeis beyond the validity period, no matter if the cards are loss or cancellation,all refused to use. The bus device has the capacity to store 91.88 millionblacklists. If passengers carry blacklisted IC card to swipe card, the busdevice will automatically alarm the ban on the card consumption. The bus devicewill also forbid using passenger cards which have been marked with a blacklist.
3.3Selling card recharge, passenger inquiriesand passenger services function
3.4 Data collection summary function (U disk data collection/ GPRS wirelesstransmission data collection)
4. System equipment
4.1
Desktop bus card device






【Parameters】:

Size:151*195*48mm

Communication Interface:RS232

ReadingDistance:IC card<125px

Read Time:≤0.3 second

DisplayScreen:3.5 inchLCD color screen

OperatingTemperature:-20℃~60℃

CollectionMethod:GPRS/WIFI/CDMA

OperatingVoltage:DC 8V-48V/DC 12V

Storage Capacity

:

91.88 million records





4.2
Handheld swipe card device






【Parameters】:

Size:217*83*46mm

Reading Distance:ICcard<125px

Read time:≤0.3 second

Display Screen:HD LCDdisplay

Operating Temperature:-20℃~+60℃

Collection Method:GPRS/WIFI/USB

Operating Voltage:DC8.2V

Card issuance capacity

:

91.88 million pcs



4.3
IC card reader






【Parameters】:

Size:200*152*52mm

OperatingVoltage:DC 5V

CommunicationInterface:RS232

Powerloss:≤3 W

Readingdistance:ICcard<125px

ReadTime:≤0.3second

Operating Temperature

:

-10

℃

~+60

℃