1. Overall design of the system
1.1 System Design Target

1. To achieve" a card in hand, traveled the whole area", to build playground advanced informatization card management platform
2. E-money consumption management
3. To collect operational data for amusement facilities, to establish data warehouses for financial and operational management analysis.

1.2 System composition description

The whole system includes four parts: management center, front desk card recharge, stalls card consumption, network transmission management.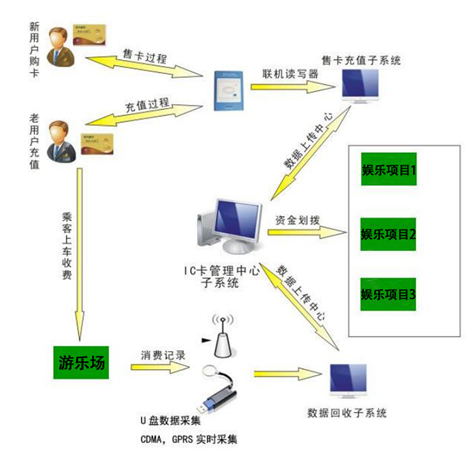 1.) Consumers: Playground consumption process of consumers' entry

After consumers enter into the playground, new clients attend to be membership at the front desk, then get the playground recharge card and recharge the money according to their requirements. If the balance of the regular clients' card is enough, they can directly enter the playgroup with their cards, otherwise, they should enter the playground after recharging the cards. After entry, consumers can spend on each amusement place with their membership card, card devices at each amusement place will complete deduction according to the amount that system has set. New and regular clients can refund cards after playing, balance of their cards can be all returned.

2.) Consumption progress of each consumer facilities stalls in the playground

After card holders consume at each amusement place, data transmit to management center subsystem through CDMA/GPRS/USB, each amusement place counts day turnover according to system data; management staff of each amusement place settle accounts at playground center after counting, playground carries out turnover settlement for each amusement place owner according to system provided data.

3.) Playground Administrative Committee: operation process of playground administrative committee

Consumers recharge their cards after attending to be a membership, playground counts the whole turnover based on system data statistics and settle accounts for each amusement place with management staff of these amusement places.

2. Functions of consumption management system

1.) Consumption management system function
2.) System settings function
3.) Customers management functions
4.) Business owners management
5.) Report management(statistical statements, classified statements)
6.) Preferential management

3. System equipment
Playground project charge machine

【Parameters】:

Size:151*195*48mm

Processor:ARM9 240Mhz

Reading Distance:IC card<125px

Read Time:<0.1 second

Display Screen:3.5 inch LCD color screen

Operating Temperature:-30℃~+70℃

Collection Method:GPRS/WIFI/USB

Operating Voltage:DC12V

Storage Capacity:91.88 million records

【Main Usage】:For IC card charges

Installation Notes:

Connect background host computer through GPRS wireless
Card sender

【Parameters】:

Size:200x152x52mm

Operating Voltage:DC5V USB power supply

Communication Interface:USB

Power loss:≤3 W

Reading distance:Proximity card <125px

Read and write time:≤0.2 second

Material:Metal Shell

Application environment:-20℃~+70℃

【Main Usage】:▲For IC card authorization, recharge, release, read and delete information

【Features】:▲Fast read IC card data, modify IC card data and store information to IC card

Installation Notes:

Connect Management Host Computer through USB data cable